Best EPs – more found on WVAU
1. Kwamie Liv – Lost In The Girl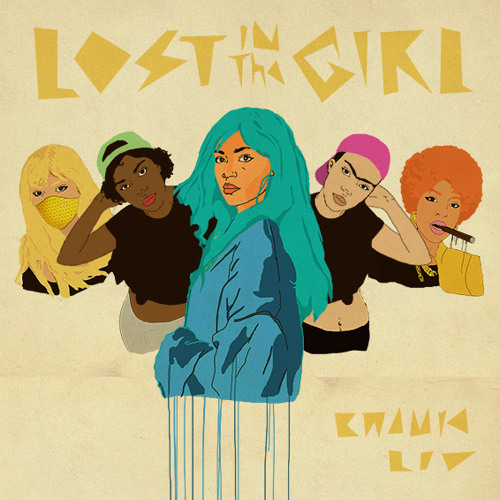 Courtesy of Kwamie Liv's Soundcloud.
There's not much that you can find out about Kwamie Liv beyond a few interviews here and there. She's from Copenhagen, but she's traveled all over the world. She's written songs since she was very young, around 8-years-old, and picked up the guitar by 11-years-old. Her music is mainly produced by Baby Duka, who also does the artwork for the EP. These are the facts.
She's one of those artists where it doesn't matter that she's not out and about doing 10 interviews an hour, because the most intimate things you can know about her come through her music. Lost In The Girl, her seven-track debut EP, flows like a dream in the midst of a hazy, summer night. It opens with "Magic," a brief introduction to the mystical, sultry sounds Liv's voice has to offer. In "5 AM," a hollow yet reflective track, she sings "better learn the difference between church and pray," a personally resonating statement that questions where the source of spirituality should come from.
Liv's music is insular and understated; her vocals aren't a commanding force and the production is relatively simple, but her lyrics and delivery are magnetic. By the middle of the EP, the title track begins and the feeling is a bit more glamorous and wistful. It melts into "comin THRU," the climax of the EP with a rhythm that's more dance-able and carefree: an essential ride or die anthem for the summer. By "Coming Down," Liv is leading you to the end of the dream, gently pushing you through with a hypnotic beat and quiet harmonies. Listeners will wake up as if from a cathartic release and be able to face the world once more.
Underexposed Albums – more found on WVAU
3. Lykke Li – I Never Learn
Courtesy of Atlantic Records.
The third studio album from Swedish singer-songwriter Lykke Li, I Never Learn is the last installment of a trilogy of albums that follow the artist's growth. Her debut album Youth Novels played out earnestly yet somewhat upbeat and the follow-up album, Wounded Rhymes, was melancholic and forceful, out to claim space that had slipped away. It makes sense to see a connected narrative between all three albums with I Never Learn finishing the trilogy as a dour, solemn work of a world-weary woman.
Li's voice really shines throughout the album and though the instrumentals are heavy and somber, her vocals are animated and keep the album buoyant when it could easily slip into an abyss of self-pity. Standout tracks include "No Rest For The Wicked," "Silver Line" and "Heart Of Steel," where solid, dynamic production meets lyrical intimacy and smooth vocals. This is not an album to play on sunny days or pre-game situations, but a good one for small moments of contemplation and reflection.